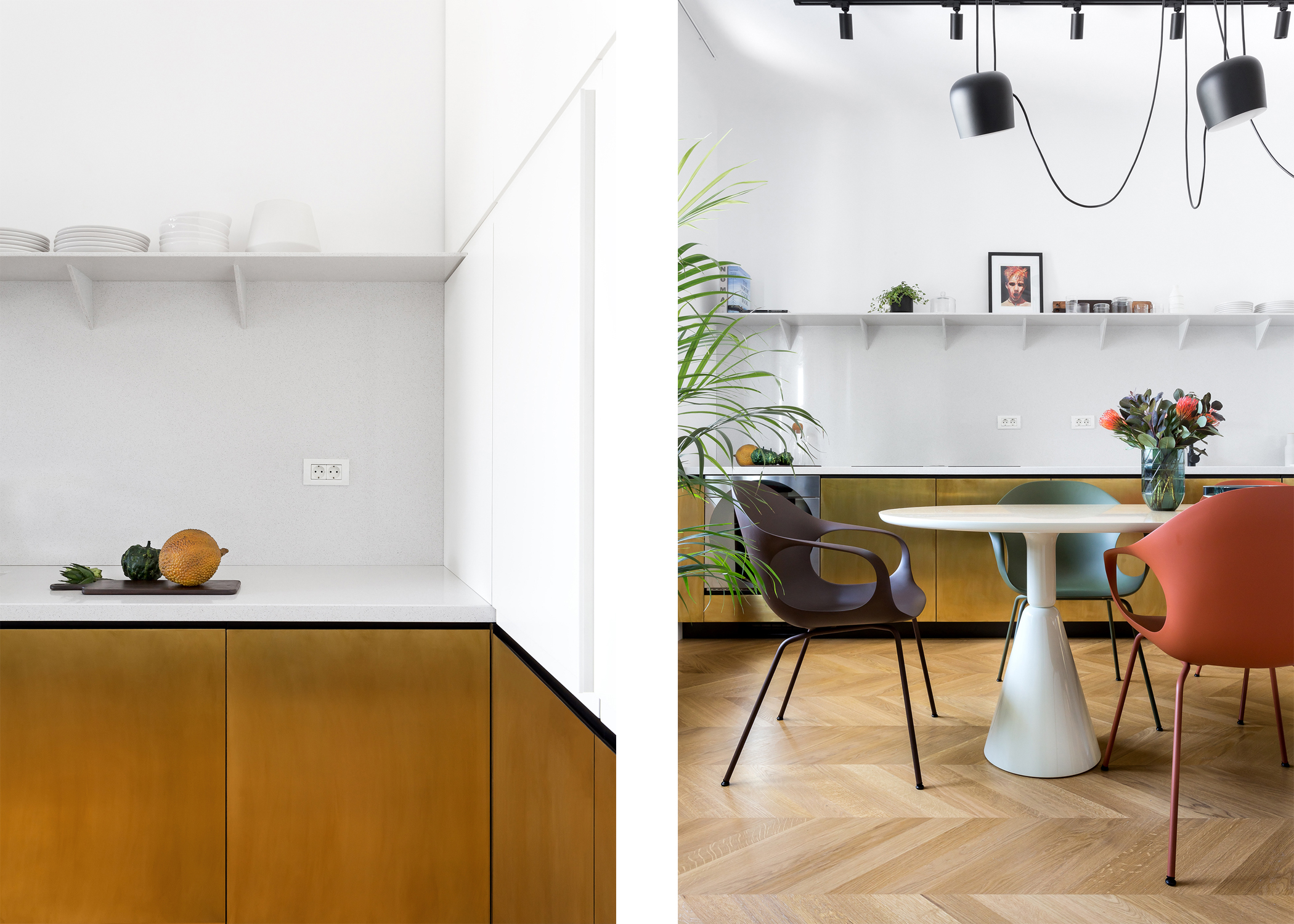 APARTMENT LC
project by:
Bogdan Ciocodeica
styling: Bogdan Ciocodeica
photo: Kinga Tomos
location: Bucharest / 2018


The main axis of the center of Bucharest, stretching from North to the South of the city, between the two World Wars underwent its most important architectural development. The existing 19th century urban tissue, with its boulevards, parks, impressive palaces and villas, all very much alike the European high class neighborhoods, was redefined, extended and brought into the 20th century with exceptional modernist housing buildings of all scales and sizes, from family villas to large apartment buildings. Many of the architectural landmarks of 21st century city are from this era and they still strongly influence the architecture of the contemporary collective housing scene. However, compared to the new buildings, the original 1930's buildings still seem to be more sophisticated, mainly probably due to their patina, charm and uniqueness. One such building houses an apartment that was in need of a renovation project.
In the past 80 years the apartment has kept its initial shape with all its original finishing and woodwork. However the contemporary functional requirements has changed and the everyday needs of the new owners - an architecture and design enthusiast young couple - are very different from the functional scheme of the original project, the core element of the new intervention was to keep and renovate as much as possible of the original components and to reorganize functionally the apartment, in spite of the impossibility to change the layout of the walls, due to structural reasons, and without loosing its intrinsic values.
The original layout of the apartment was composed of two different areas: the main representative living and nighttime functions, composed of the main entrance, living room, dining room and master bedroom with bathroom, and the secondary functional area of the kitchen and maid's room, with its own entrance and bathroom, an area that typically was much smaller. The new functional layout erases the functional differentiation between the segregated parts and integrates in one single scheme all spaces, by including in the main living area the kitchen, an important component of our contemporary way of living and social interaction. The former service quarter of the apartment was transformed into a small home office, convenient for the everyday use and discreetly separated from the rest of the apartment.
The main functional and aesthetic feature of the project consists in the fluidity of the daytime spaces, linked in a sequence of alternating places designed for different levels and ways of interaction within and of the couple.
Architecturally the contemporary character lies in the reinterpretation of the original values and materials. The old, but renovated windows, doors and heaters are matched with the new hardwood flooring and the vibrant combination of the original and new tiling, brass and mirror furniture finishing and signature furniture pieces.