BEANS & DOTS 2
project team: Bogdan Ciocodeica, Ana Porim
photo: Andreea Macri
custom furniture: Stefan Zwart
location: Bucharest / 2019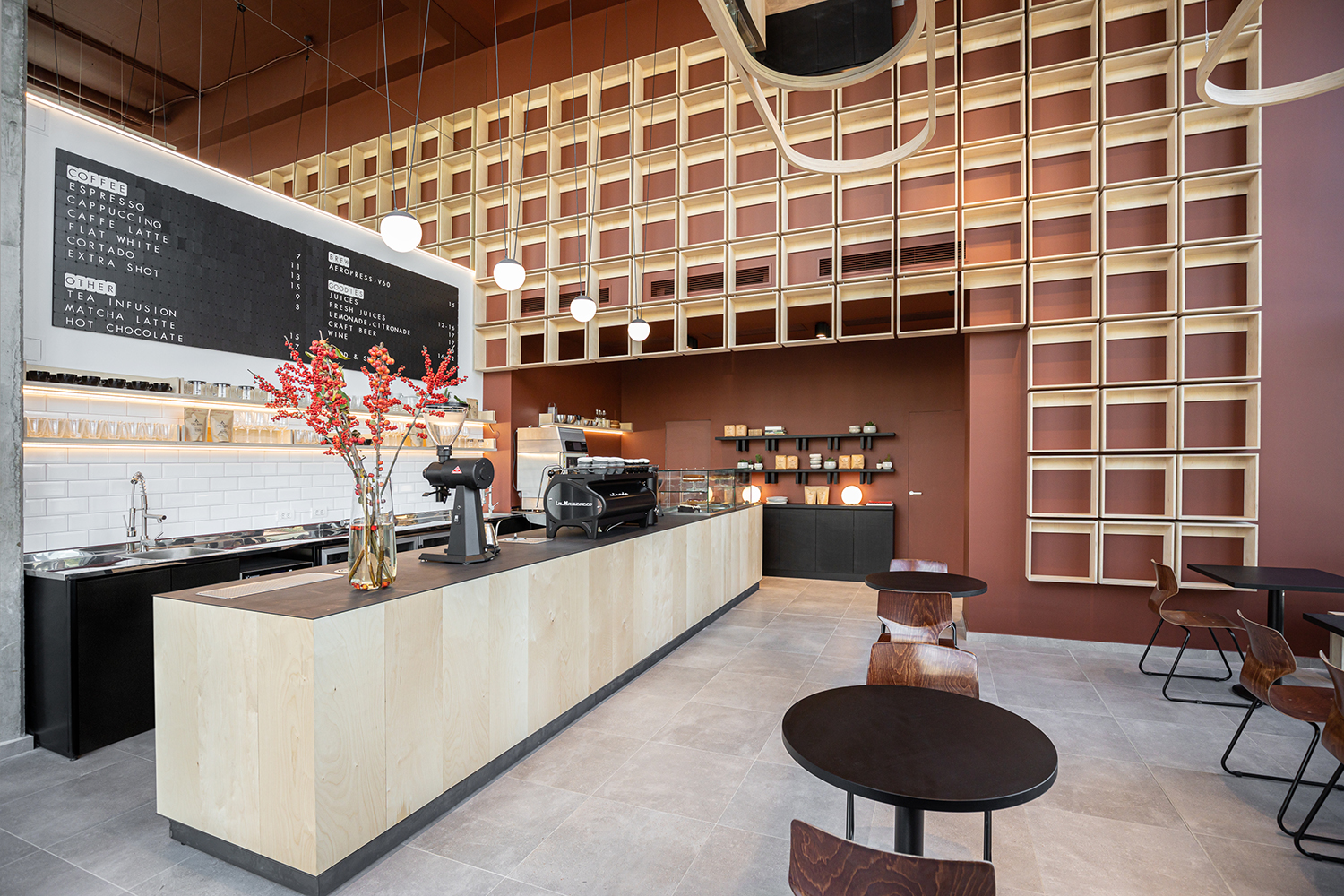 Beans & Dots was one of the first coffee shops at the vanguard of the specialty coffee wave that has taken by storm Bucharest in the past five years. With high quality coffee selected and roasted by The Barn Berlin, Beans & Dots has attracted a loyal crowd of coffee enthusiasts. Naturally the next step was opening a second location.
The creative process began with establishing a brand color that could act as a red line between the two locations and all the future ones. After several tests together with the owners we decided to use a dark, rich, burned red, reminiscent of the cascara color. The second step was finding the best way to emphasize the atypical shaped space and at the same time giving it the right scale so it doesn't feel too monumental.
The frontal, cascara red wall, was furnished with a large, light wooden book shelf, that showcased the double height of the space, giving it texture and depth. To balance the scale and to bring proportion to the users a series of suspended wooden curved structures were used. Filling the space and giving it vertical layering, the oval shaped elements make use of central mirrors to reflect the furniture beneath and create focus points. The bar is a simple, long and slender volume coated in the same light wood as the book shelf, with a metal sheet countertop. The menu is reminiscing of the classical airport display panels topped by a large mirror that creates an optical illusion of continuity for the book shelf. The unconventionally high space is marked and accentuated by dramatic wavy dark curtains, that are in opposition with the apparent solid concrete pillars.
The entire space is designed to be minimalist and warm at the same time, with the user at the center of the attention, the type of space that exudes serene and inviting atmosphere, where you can almost feel the freshly brewed coffee.